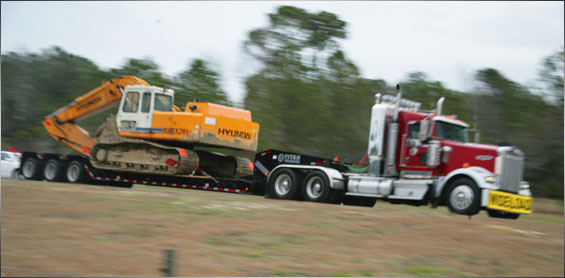 Titan Trucking
Titan Trucking is a full-service, fully insured equipment, wood products and heavy haul carrier, specializing in the transport of harvested timber, over-sized equipment, and machinery. We offer professional interstate transportation services for various load types throughout parts of the Midwest and the entire eastern portion of the United States from Maine to Florida. Titan Trucking will handle everything from start to finish, including special permits, escorting, logistics coordination and the transport of your freight.
Are you looking for professionally competitive transportation services for your heavy equipment and machinery? The Titan Trucking team is standing by to assist you with your haul… large, heavy or somewhere in between. We will expertly handle your cargo delivery.
Our Advantage:
Can easily can handle a GVWR of 100,000 pounds
Pilot cars and escorts available
Competitive free quotes
Commitment to customer satisfaction
TWIC card -carrying drivers (necessary for port and military access)
Hazardous material endorsed drivers
Load planning, permits, and delivery
Fast and safe delivery of forestry products from finished utility poles to clear cut harvests, residential and commercial development harvests, and thinning loblolly plantation stands
Examples of what we transport:

Agriculture Machinery

Tractor
Seed Planter
Harvester
Cultivator
Earth Movers

Construction Equipment

Excavator
Bulldozer
Crane
Crane Tracks and Boom
Motor Graders
Backhoe
Crawler
Road Roller
Forklift
Wheel Loader

Storm Relief

Logging Equipment

Lumber
Skidder
Track Feller Buncher
Harvester
Log Loader

Military Equipment

Armored/Tracked Vehicles
Tank
Rolling Stock

Other

Airport Terminal Equipment
Fabricated Duct Work
Skid, brace that holds a machine
Maintenance Building
Golf Course Maintenance Equipment
Steel Beam
Boat
If you do not see your item listed in the above examples, please contact us and we'll be happy to let you know whether we can arrange shipment for your item.